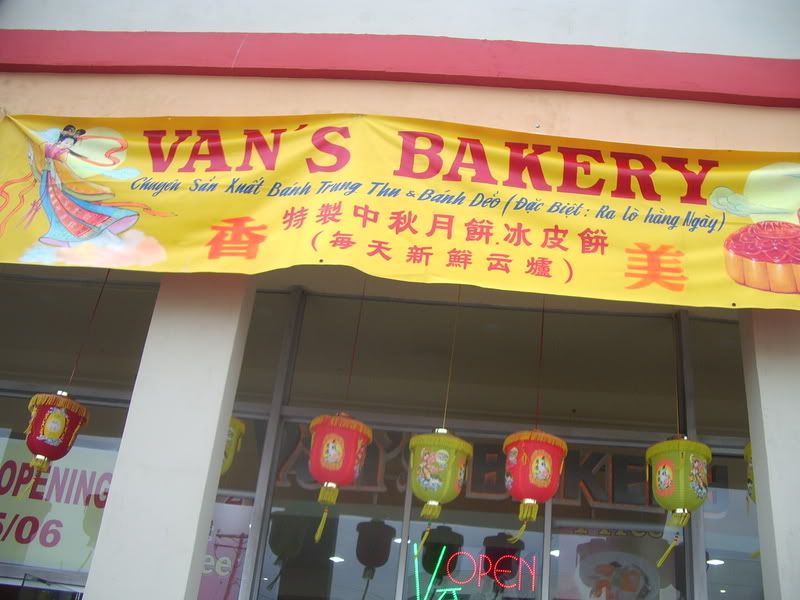 Let me introduce you to the fiiiiiinest bakery in all of San Gabriel. Okay, so it's not really an introduction as I blogged about Van's Bakery nearly a year ago. But they recently moved across the street to a larger shop (like five bazillion times larger) – so it's technically a new place! Van's Bakery is heaven for me. And even though I was raise on Vietnamese food (but I'm full Chinese) my Vietnamese vocabulary is still limited. I can point and describe to you the flavors of cha, che, pate sou and all these gorgeous Vietnamese creations, but ask me for a name and all I can do is smile and shrug my shoulders in defeat. No worries though, I'm working on it! Just give me a few months and I'll get it down pat (all at the expense of studying for my Business Law class…though so worth it!)


You cannot ever ever leave Van's without a cup of ca phe su da – the Vietnamese iced coffee. They brew it real strong here and add just the perfect amount of sweetened condensed milk. Almost smoky, sweet and lovingly smooth with the distinctive Vietnamese coffee bit, sip after sip goes by quite fast and before you'll know it, all pau! It's priced at $1.75 and if you ignore the massive quantity of crushed ice, it's quite a good deal for the caffeine shock aftereffect.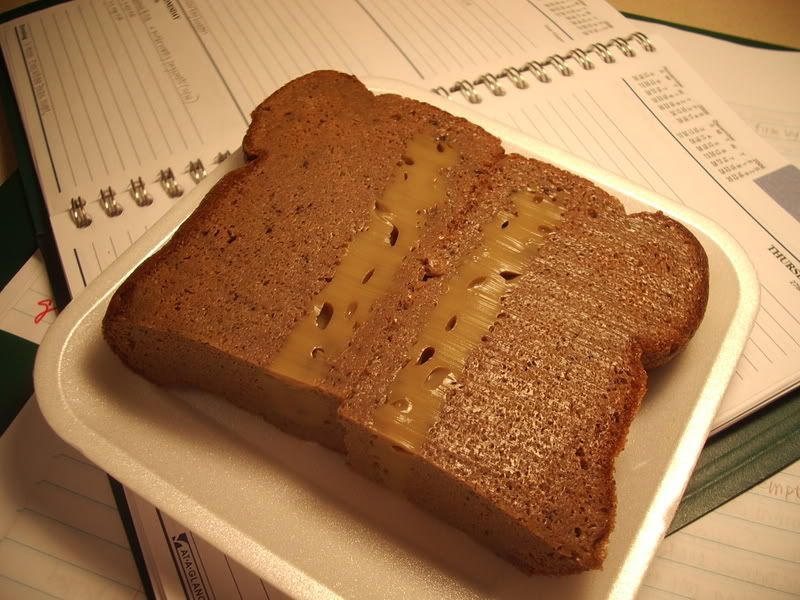 This is Banh Gah. It does not look like dessert. Hell, it barely appears edible! It's rather awful looking and even harder to imagine that it has much potential for deliciousness. And when you touch it – oh boy! It's like a bumpy, what-the-hell-happened-to-the-jello feel. And it's brown. And rough on the edges. BUT IT'S GOOD BABY! What is this Banh Gah – affectionately known as "Liver Cake" in English? Think of baked, firm custard based off coconut milk, eggs, brown sugar aplenty and a hit of chocolate, coffee and star anises. Interesting, no? The Banh Gah separates into three layers upon baking. A slightly crusty "baked" top layer, much like a softened version of the crisp banana muffin top, only coconut flavored. Then the middle: spongy and nearly pudding-ish, though firm in texture. At the near bottom is a inch thick block, lighter in color with a gelatin-like bounce. Lightly flavored and not too sweet at all, a slice of two of Banh Gah is the perfect afternoon retreat. And if you wish to whip of some of your own, here's where to go, and let me know how it comes out!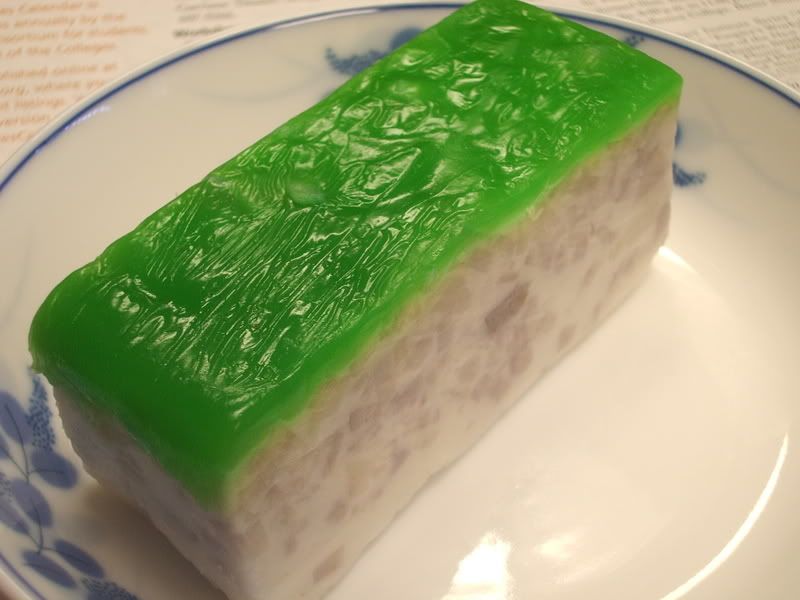 I only had plans for coffee and banh gah, but a slice of Bánh Khoai Mon caught my eyes with it's pretty green pandan top and taro speckled coconut base. It was only $1.50. I've never tasted it before. And when was the next time I'd be back? So I got it. Oooh, making so many good decisions today! This was surprisingly heavy, a very solid and rich coconut base with generous chunks of boiled taro bound in every bite. Halfway though, I though briefly about saving the rest for later – portion control and all, you know? – but just as quickly as the thought came into my mind, it disappeared. Some things just weren't intended to be only half eaten. The layer of pandan (the Vietnamese version of vanilla – a billion times more fragrant) proved to be a refreshing cut contrast, light, with the densely rich coconut taro brick. Oh man, anyone know of a place that offers coconut taro ice cream? I could go for some!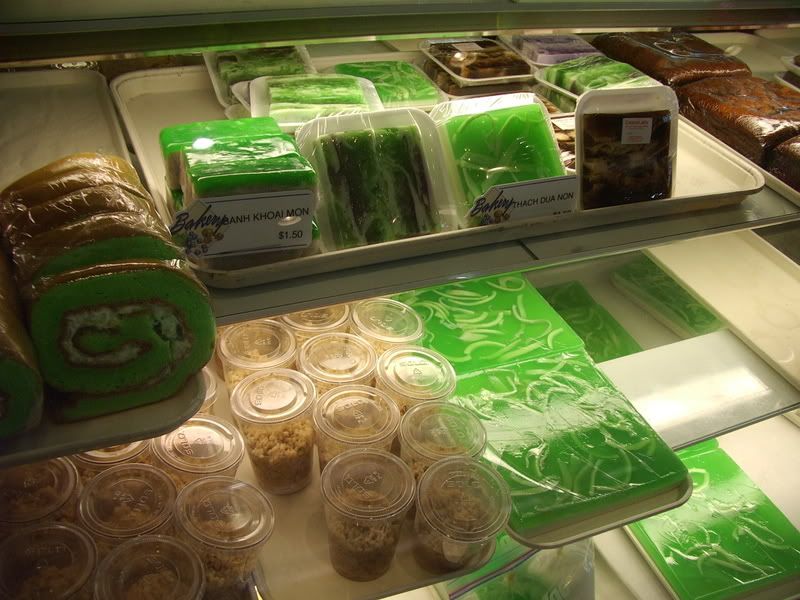 And if you can find more room in you stomach after a massive lunch at Com Tam Thuan Kieu (which you really must try if you just NEED your com tam), consider picking up some of Van's other pandan based desserts – all in the lovely soothing shade of green. Perhaps a pandan scented sponge rolled with lightly sweetened cream, jellies with strands of fresh coconut, have your coconut jelly layered with coffee too, if you so desire!


How about Vietnamese madelines in the top right corner, or sweets zhongs on the left? May I entice you with a triangle of banana studded coconut cake or pandan mochi-like rectangles with a little jar of sesame honey sauce?


We can even go for rice based sweets if you want, sweetened with coconut milk and soft black beans, sprinkle some of the chopped sugar dusted peanuts on top…it's positively whimsical! A savory treat of Banh Beo lies on the right, steamed rice cakes with mung beans and a ground shrimp paste. Aren't these dishes simply amazing? I mean, who comes up creations and combinations like this? Not just hamburgers of ground beef slapped between two buns (not to insult the hamburger – which I love dearly!) but this, man, this…steamed rice? salted mung beans and flaky shrimp powder?! I don't think we could ever tire of exploring food given the million variations of different cultures. And the idea that all of this is found in just one bakery – why imagine if we went into every single bakery in the world! EVERY. SINGLE. ONE!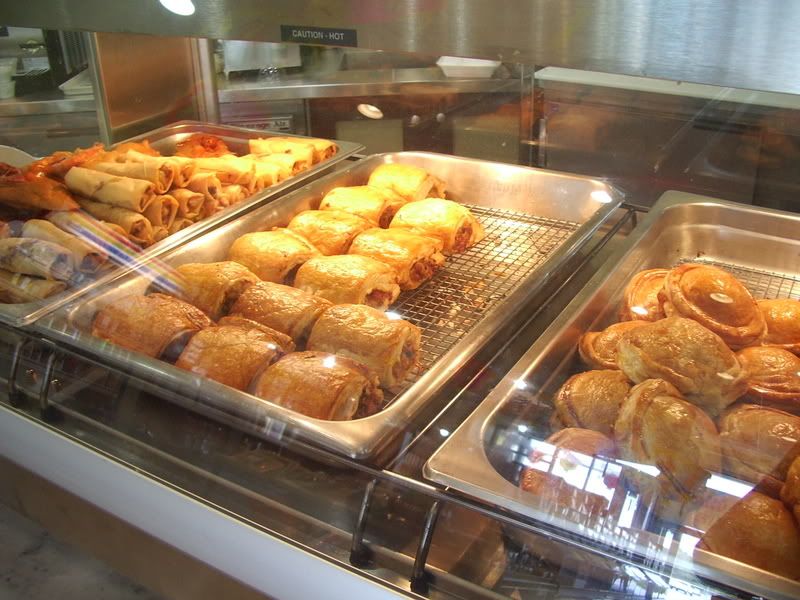 I usually like to leave you on a sweet note, but these fried pastries, though savory in taste, can often cure any desire for a sugary treat. A myriad of pates, meats and glass noodles are wrapped in buttery dough much akin to puff pastry – though a touch saltier. My favorites are the circular pate sous – a mix of ground pork, liver and all sort of unmentionable tasties…unmentionable as in, too good to put in words :) And that, now that's what I call a bakery!
Van's Bakery
860 E. Valley Blvd.
San Gabriel, CA 91776
(626) 288-7272