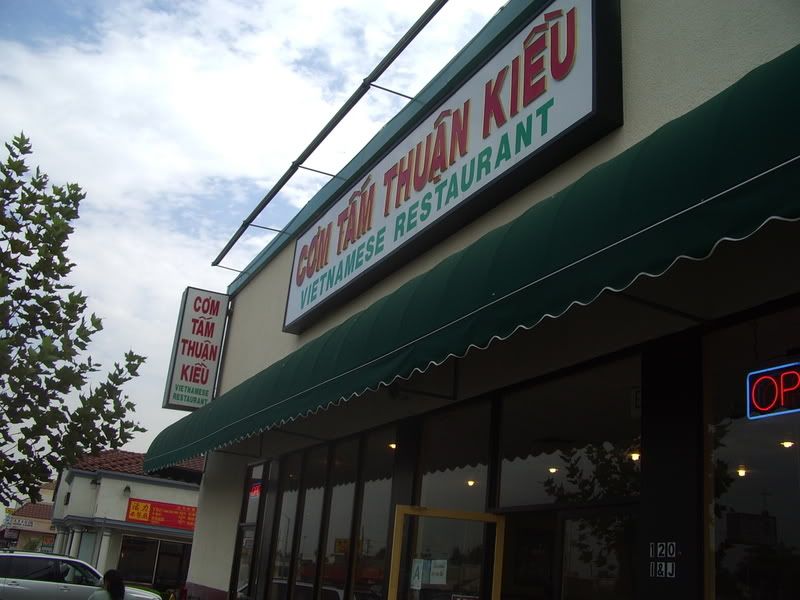 I am quite possibly, the happiest girl on the planet this moment. THE HAPPIEST! If you followed along my last few posts, you'll know that I've been having the most intense cravings for com tam with cha. Now if I were still in NYC or Hawaii, this would be no problem cause I could easily walk to a restaurant or use my parent's car. But here in lovely LA, I am regretfully, CAR-LESS. So there is pretty much no way I can get to a good Vietnamese restaurant in San Gabriel unless someone is willing to drive there. I wasted all Friday and Saturday sitting in my room, furiously angered over my situation. Bah! I was so mad. SOSOSO MAD! I was so angry I couldn't even function or do my homework. I just sat there like a deprived chowhound. I sat there, an angry person. An angry college student. An angry college student with a healthy appetite and no transportation. Like a SUPER ANGRY human. I drew angry faces all over my business law homework. I refused to eat anything (until I got hungry). What has the world come to? Sob. I felt as if I were going to be permanently handicapped until I found some way to get com tam with cha.
But guess what? My friend Julie came like an angel from the sky (or rather, from the dorm across the street) and literally saved my life. Not kidding, I've had com tam dreams and mirages for the last three days – it's all I can think about from the moment I wake up until I tuck myself in at night. I proposed a plan of "real" Vietnamese in San Gabriel (not the funny kine stuff we get in Claremont) for lunch and she eagerly agreed. How awesome is that? With the roar of her car engine, my week instantly turned from blahblahblegh to YAY! It felt even better than winning the lottery, not that I have or anything, but you know.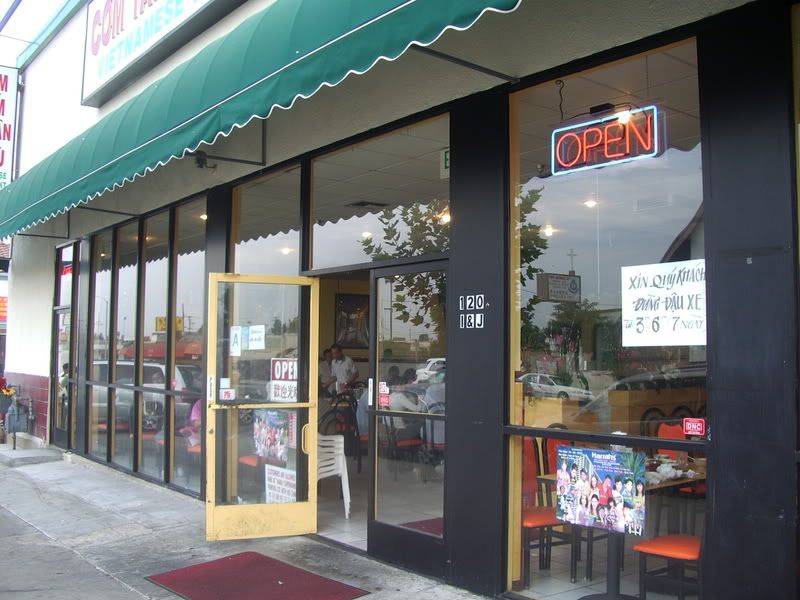 My aunt who used to live in the area suggested we try Saigon Flavor, as it was close to the Hawaii Supermarket and Van's Bakery – two other places I wanted to stop by. Saigon was just doors down from the Hawaii market, so we planned to park in their lot, walk to Saigon, eat and come back from shopping. We pretend to do a little quick shopping before lunch to make sure they wouldn't tow. And it sure was a good day to shop – Oct 6th is mooncake day so they had TONS of mooncake samples all over the supermarket. Some people call them the Chinese equivalent of the American fruitcake, but I think they taste much better. And all the different flavors they have – you can even get durian or blueberry mooncakes! But here comes the best part. The BEST. We exited the market, walked past a jewelry store, medicine place, and just as I saw Saigon, something more magnificent caught my attention. COM TAM THUAN KIEU. What?! This was never here before! I've never seen this place! This is the restaurant (though at different locations) that Elmo and Chubbypanda reviewed! (Note: it was their posts that started me on this com tam craze. The POWER of foodbloggers is truly dangerous!) This was the BEST DAY OF MY LIFE. The words COM TAM…oh man, oh man, they must have planted this restaurant here just for me.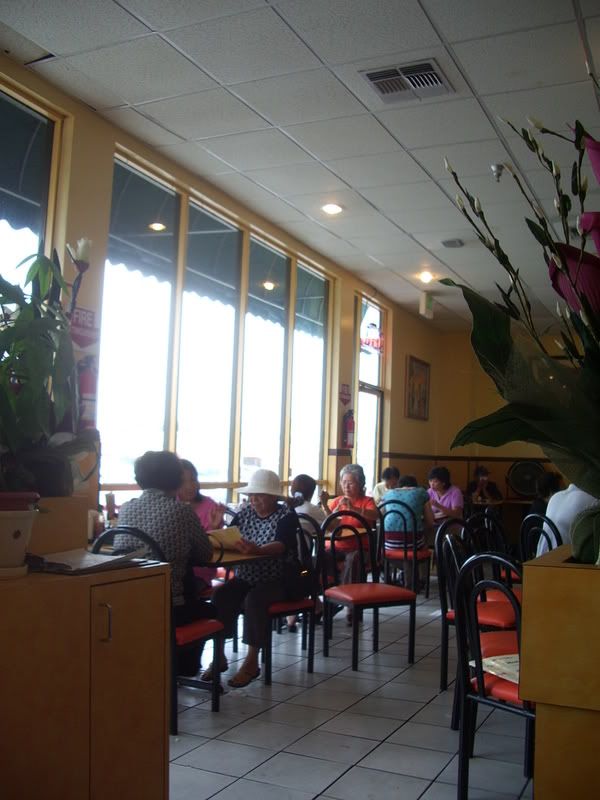 "Forget about Saigon Flavor," I told Julie as I literally dragged her in Com Tam. I was all smiles during our brief wait for a table. Everything looked so delicious; it took all my willpower and then some to stop myself from simply salivating over someone else's dish. We were seated and quickly brought out menus, hot tea and water. Holy crap! So many com tam options! My bigger smile got even BIGGER. It was so big I'm surprised my face didn't rip open. I must have looked like a psycho.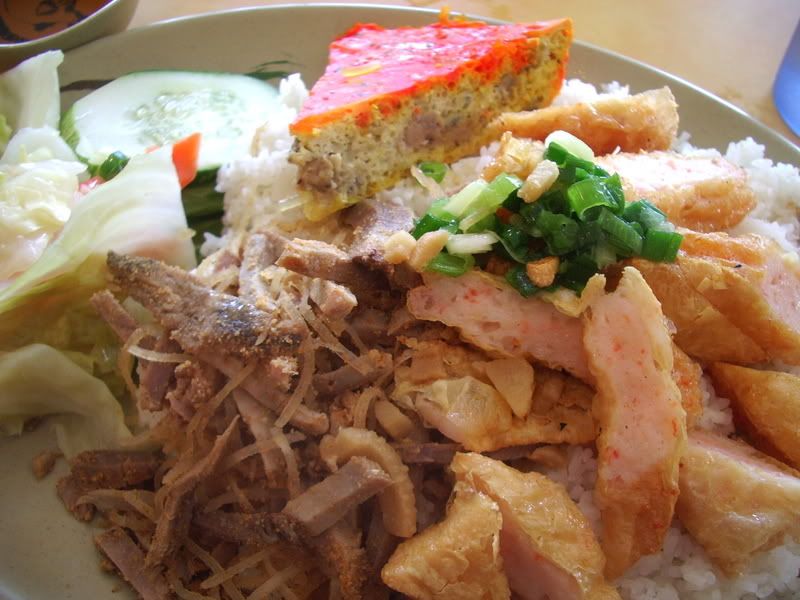 My eyes scanned down to the choice of com tam with cha. That's all I wanted. And that's what I've been dreaming about, craving, fuming about and drooling over. I didn't need the nem or suon, just com tam and rice. I'm a simple girl. Or at least I was, until I saw the bi the guy next to me was eating…and then tau hu ky at another table. So I changed my order to the com tam with cha, bi and tau hu ky. Good choice! Our orders came on five minutes right after ordering and I dug in like a madwoman. How deprived I've been! Oh, it was so wonderful tasting. My whole mouth, every part of me was delighted. I tore apart the whole dish with such gusto, the cha was spectacular – this is my single most favorite type of Vietnamese item. A cross between the delicate chawan mushi and a crustless quiche, this is our take on the baked egg. Full with pork, noodles, mushroom and plenty of egg to bind it together, the whole mass is steamed and cut into triangles for serving. I was in heaven, guys. For real. The bi was not finely shredded or as flavorful as my grandma's, but then again, when is food ever as "good as your grandma" makes it? but today, no matters. The bi was surely a sight for sore eyes/taste buds. Shredded pork and pork skin was mixed with roast rice powder giving both texture and a slightly smoky flavor. Tau hu ky is not frequently offered in Hawaii restaurants, so while in LA, I'm doing/eating all I can. Shrimp is ground to a fine paste and wrapped in a skin bean curd before being fried to the most awesomest perfection. It's glorious. It's heaven. Pour the nuoc nam over the entire dish, letting it soak into the rice and the egg, bi and shrimp and well…there's nothing quite like it. Nothing in the world.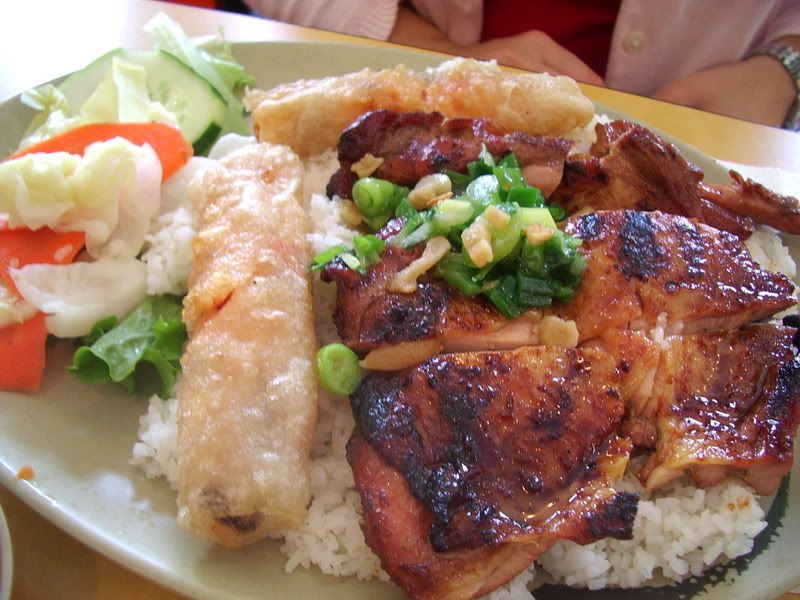 Julie had the com tam with shrimp rolls and charbroiled chicken. She loved it. She must have, as she finished it. But I was so focused on my plate that we didn't even speak throughout lunch. Our total for the meal? $5.50 per plate. Crazy. We left the restaurant clutching our stomachs. Sooo full. But who cares? If I were handed another plate, I'd willingly polish it right off. It's all in the rice, the tender morsels of broken pieces of jasmine rice, flavored sweet and salty by nuoc nam. Tiny little cuts of starch, such simple things really, it's this stuff that keeps the world going round in smooth circles.
Ridiculous isn't it? All you need is good food and nothing else to be happy.
Why this really is the happiest day of my life!
(More on Van's Bakery – a Vietnamese madhouse of great snacks/desserts in the next post:)
Com Tam Thuan Kieu
120 E. Valley Blvd
San Gabriel, CA 91776
(626) 280-5660