Ooooh. I've been waiting for SO LONG for this bread pudding. All last year, all summer and finally – now I have it! I could never justify paying $12.50 for a slice of bread pudding (and still can't believe I did it) so I only got as far as the entrance of Blue Ribbon Bakery while at NYU last year. But I had to have it. What if I got run over by a car tomorrow and died never having the only bread pudding I really wanted to try? A sad life that would be!
Robyn and I tried to get in on Thursday night but the wait was too long so we had dinner at Pearl's Oyster Bar. I'm acutally glad it worked out that way because that was a mighty mean buttery lobster roll! I came back with Shann this time, around 12:30 am when something inside of me declared "you shall not sleep well tonight unless you have BREAD PUDDING!" So we made a midnight trek to the elusive Downing Street. We were quickly seated as the restaurant was only half fun. Yes! Never thought I'd see the day where there's no wait at Blue Ribbon. But then again, how many people crave expensive bread pudding at 12:30 in the morning?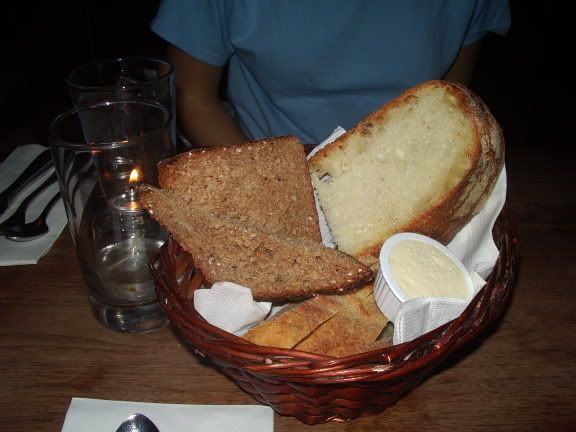 We told the waiter upfront that we were just here for dessert and they were totally cool with that. They even asked if we wanted bread – how nice is that? We were brought slices of savory olive, a sourdough and a dense nutty grain bread. Good on their own, even better with butter, and amazing when used to soak leftover dark chocolate fudge! (more on that later)
Here's the deal. They offer two types – chocolate chip and banana walnut. This is a problem because I love both chocolate chip and banana walnut bread pudding, but I'm sane enough to not invest $25 for both puddings. I hemmed and hawwed and sought out my very attractive waiter for advice.
"Chocolate chip or banana walnut?"
"Do you like chocolate or banana better?"
"That's the problem, I love them both equally."
"How about this, I'll give you half an order of each!"
"AHH, I LOVE YOU!" (not quite to that extent, but I did express an unusual amount of gratitude).


Hehehe. So I got BOTH. For the price of ONE! The chocolate chip was topped with a vanilla ice cream and a heavy hand of hot bittersweet fudge. Oh, indulgence indeed! The pudding was crusty on the outside but soft and squishy after breaking though the chocolate chip charred shell. The ice cream melted quickly, requiring strategic spoon movements, picking up the right size of pudding, a scoop of ice cream and dragging it though a pool of bittersweet fudge in a matter of seconds. What happened with the leftover fudge? Why the basket of half eaten sourdough begged to be eaten, bread and chocolate, who would refuse? The combo brought back memories of my toast and nutella days, only better.


The banana walnut was a welcome change from the heavier chocolate chip pudding. Again, the same crusty exterior (I think they cut each piece from a large pan and then heat it up on it's own so that all four sides and top were crunchy. There were both chunks and smushed up bananas layered with the bread. There were too many walnuts for the size of the pudding, so I felt a little gypped on that end (I paid $12.50 for pudding not walnuts!) This was topped with the same vanilla ice cream but a caramel instead of chocolate sauce. The caramel was smooth and warm, lacing the pure white ice cream. Nearly all the ice cream melted into the pudding by the time my spoon made it's way here but the hot and cold, soft and crunchy mess was a delight to indulge in.
I still can't decide. I love them both. Chocolate and bananas are so different- it would be unfair to compare them!
Blue Ribbon Bakery
33 Downing Street
NY, NY 10014
(212) 227-0404