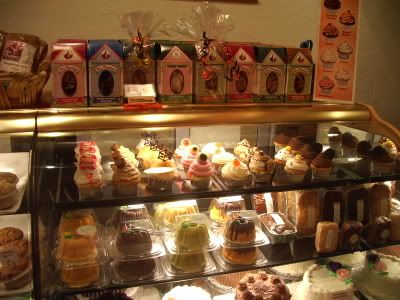 Stopped by Mrs. Beasley's in Pasadena the other day. The shop is located right off Pasadena's main shopping area on Colorado Blvd. A few years ago I received one of their lemon bundt as well as chocolate chip fudge cake in the mail. While they were both overly sweet I loved how moist and dense the cakes were. I had always thought Mrs. Beasley's was a mail order business so was surprised to discover that they had retail outlets.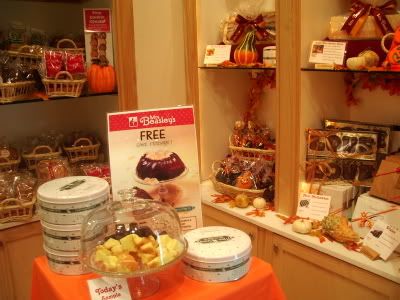 Look! Free samples! I love samples. The picture above is of their lemon and chocolate chip cake I just mentioned. Mrs. Beasley's also carries cookies, truffles and other baked goods but is mainly known for her cakes. All the products in the store just screamed sugary sweet, everything from the color of their cakes to the elaborate and excessively garish packaging was a bit overwhelming. Perhaps they could turn it down a bit to appeal to customers more interested in eating as opposed to looking? After all, you can please the eye, but in the end it is the stomach (or at least in my case!) that makes the decision!
The girl behind the counter pushed me to try their new line of cupcakes, "you can only get them in the stores!" They vaguely remind me of Magnolia cupcakes (with which I have a love/hate relationship – love the asthetic appeal, hate the actual cupcake…) in the sense that there is a TON of frosting. A ton as in 3 inches. I like quality frosting as much as the next person but I started to wonder if Mrs. Beasley was going for quality or quantity.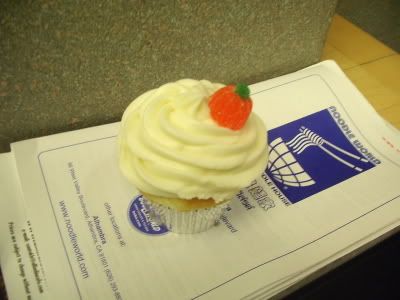 Nonetheless, I purchase a cream cheese cupcake ($3) – a yellow cupcake base with a tower of cream cheese frosting. They threw a pumpkin on top becuase it's almost Halloween. Like their bundt cakes, the cupcake part was dense and moist, more like a pound cake than cupcake. I've always expected cupcakes to be on the lighter, delicate side, but I do like the dense texture of their goods. The cake base was not too sweet but heavy on the vanilla flavor. As for the frosting? I only managed to eat about half before I started to feel cavities growing everywhere in my mouth. This was definitely better than the average frosting, light and fluffy, the flavor was pure cream cheese and nothing else (except probably a ton of fat). I probably won't go back for another cupcake, lest I'm craving a heart attack but I enjoyed visiting the cherry, brightly light shop. Man, this really makes me miss the good old family and one of a kind bakeries in Manhattan. The big corporation thing is kind of a gloom over Mrs. Beasley's name!
Mrs. Beasley's
14 South Fair Oaks Avenue
Pasadena, CA 91105
(626) 529-9990